Please note, these functions are only available in EXDOC and do not apply to CRNs, EDNs or PRAs.
There are two methods of electronically sending an RFP from one Exdoc user to another. The first is by using the forward function in the Forward/Transfer folder in the RFP header record. This method of shipping around the RFP is used when it is not necessary to change the Exporter's Name on the header record, i.e. when the RFP is raised by the Packer on behalf of the Exporter. The second is by transfer when there is a need to actually change the Exporter's Name on the RFP and therefore the Health Certificate. This is necessary when the product is sold to another party after the RFP has been raised.
These details are entered on the "Forward / Transfers" folder on the RFP Details screen.
To Forward a RFP. Make sure the EDI User is in the EXDOC EDI Users table entry and select that EDI User in the "Forward To" field and select the "At Status" to initiate the forward. Once the record has been forwarded to its new owner, the previous owner can no longer access it.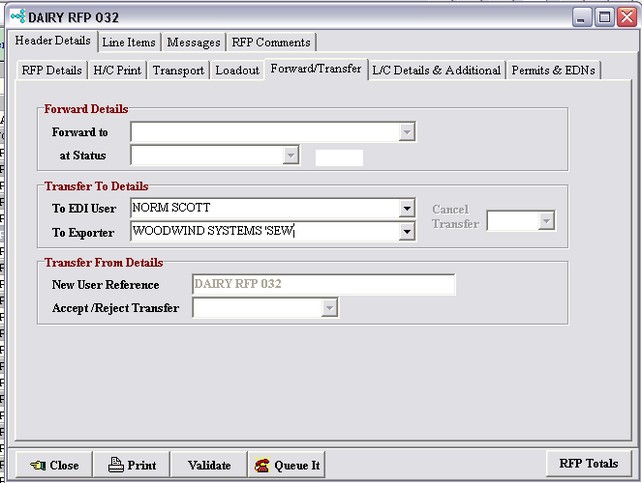 To Transfer a RFP. Enter the new Exporter's name in the "Transfer To" folder of the RFP Details screen. Then select the EDI User Number that will be used to execute the Transfer.
You can only do a "Forward" or a "Transfer", you cannot do both. You will not be able to Transfer a RFP until it has a RFP Number from AQIS.
To Accept a Transfer. Select your choice on the Accept / Reject Transfer field. When Accepting a Transfer it is pos sible to change the User Reference. Do this in the New User Reference field. You can only do this at the time of acceptance.